Lawn & Yard Maintenance
Our Lawn and Yard Maintenance Services Include:
Residential, Commercial and Industrial

McMullen Landscape Construction & Maintenance provides residential and commercial lawn mowing services in the Hancock County area.
It's not just cutting grass! A properly mowed lawn paves the way for your lawn's success or failure. The grooming of your lawn enhances the turf to become more healthy, drought tolerant and thick enough to crowd out weeds.
Do you have a field with unwanted overgrowth?
What is the importance of keeping these areas in check?
Compliance with local regulations
Reduces fire hazards
Reduces unwanted weed growth
Prepares property for planting/building
Make your property more sellable
Better relations with neighbors
Reduces illegal dumping possibilities
Reduces varmint infestation
Mulch Installation / Delivery
We can deliver for the do-it-yourselfer or install and spread mulch products.

The benefits of mulch are too many to list. These are the most common:
Breaks down with time into nutrients that the plants need, flowing into the soil and feeding the plants through their root systems. Think of mulch as a 3″ layer of solid plant food!
Prevents loss of water from the soil by evaporation.
Reduces the growth of weeds, when applied deeply enough to prevent weed germination or smother existing weeds.
Keeps the soil cooler in the summer and warmer in the winter, thus maintaining a more even soil temperature and promoting better root development resulting in improved growth and blooms.
There are many reasons for removing a tree from your property. Here are a few of the most common:
Dying or dead tree
Diseased or insect infested
New construction or renovation
Structural integrity damage (lightning strike)
Safety issues – dead, dying, fallen branches
Foundation / Pipe Damage (root systems)
Why add shrubs, bushes and hedges to your landscape?
Shrubs, bushes and hedges are arguably the most underrated and undervalued of all landscaping plants. They possess a natural beauty that can enhance the curb appeal of your home, while providing an attractive compliment to lawns, trees, gardens and hardscapes such as walks, patios and stone walls.
Why should you keep these plants properly pruned?
Proper trimming techniques will keep shrubs and hedges healthy and liven up your landscape.
Pruning directs growth, allows light and air to reach the plant and removes the excess weight of damaged and diseased branches.
Damaged, dead or diseased branches lead to the attraction of insects.
Why should you do Spring Clean Up?
Spring is the time for removal and the perfect time for preparing your landscape for the warm summer months.
With the arrival of spring, your landscape is ready to burst with vibrant colors and strong growth.
Spring clean up ensures that your landscape will grow to its potential beauty throughout the spring and summer seasons.
Why should you do Fall Clean Up?
Fall is the time to ready your landscape for the dormant season and prepare for the upcoming year.
Fall ushers in the cool weather months with shorter days and cooler temperatures.
When the seasons change from hot and humid to mild and cool, it's an important time to begin preparing your landscape for the inclement weather.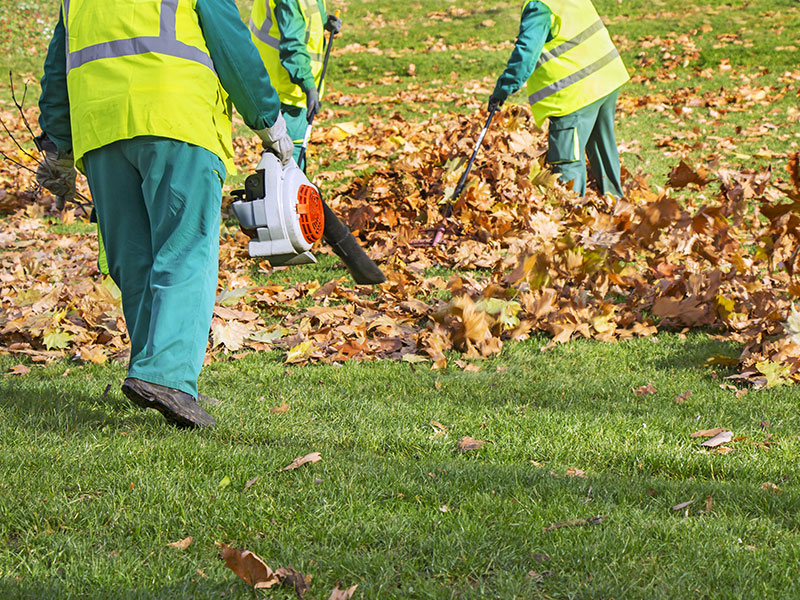 Need Lawn & Yard Maintenance Services?