Whether you only want to repair specific sections or you would like to replace your entire lawn, McMullen Landscape has the solution for you. We offer Aeration, Thatching, Slice-Seeding, Top Dressing and Fertilizing.
McMullen Landscape provides residential and commercial lawn mowing services in the Hancock County area, as well as tree removal, mulch delivery, spring and fall clean up and more.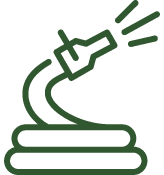 Protect your lawn against erosion from wind, rain, sun and pests. Get the beautiful lawn you desire quickly. Hydroseeding is a cost effective way to grow a healthier, greener and longer lasting lawn.
Create stunning landscapes with a classic stone look. With a varied combination of shapes, textures and colors, building impressive landscape projects is easy and affordable. Our professional design can incorporate individual products or blend them together for an exquisite look.
McMullen Landscape has the equipment and skills needed to complete your bigger landscaping jobs too. We offer driveway grading and resurfacing, culvert repair and replacement, shoreline stabilization and ditching services.
Residential and commercial snow removal and ice control services in the Hancock County area. Outstanding on-time service by our experienced, dependable crews. ​We offer various programs to fit your individual budget.